Sound Relief Hearing Center – Fort Collins
4703 E Boardwalk Dr # B2
Fort Collins, CO 80525
(970) 672-1410
Fax: (970) 797-1134
Our Fort Collins hearing center is located 1/2 mile east of College Ave. and 1 block south of Harmony Road.
Hours of Operation:
Monday – Thursday: 8:30 am – 5:00 pm
Friday: 8:30 am – 1:00 pm
Our Hearing Health Professionals
Dr. Tony Kovacs, Au.D., FAAA
Originally from Chicago, Tony moved to Colorado in 2012 to pursue his Doctorate after many years of touring as the lead vocalist in his punk rock band Shot Baker. He was recently featured in a story by NPR which highlighted his hearing conservation work with musicians. Click here for more information.
Tony earned his Bachelor of Arts degree in 'Audio Arts and Acoustics' from Columbia College Chicago (2005), his Bachelor of Science degree in 'Audiology and Speech-Language Sciences' from University of Northern Colorado (2014), and his Doctor of Audiology degree from University of Northern Colorado (2018). His experience as a touring musician offers him a unique perspective and approach to the field of audiology. He believes preventive hearing healthcare deserves at least as much attention as rehabilitation.
In addition to playing music and helping folks with their hearing healthcare needs, Tony enjoys hiking, paddle boarding, and camping with his wife, Lisa, and their chocolate lab, Bodhi.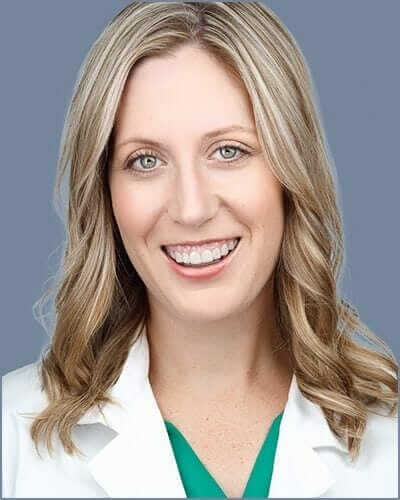 Dr. Abby McMahon, Au.D., CCC-A, FAAA
Abby received her undergraduate degree from University of Kansas and her Doctorate of Audiology (Au.D.) from Northeastern University in Boston, Massachusetts. She has been awarded the Certificate of Clinical Competence from the American Speech-Language-Hearing Association and is a Fellow with the American Academy of Audiology. She is the Past President of the Colorado Academy of Audiology and has been on several other boards related to audiology. She loves working with patients and their families helping them achieve the best quality of life they can through excellent hearing healthcare!
A Fort Collins native, Abby is thrilled to be back in her hometown taking care of people in her community. When she is not at work, she is busy chasing after her two young (and busy) toddler boys, two dogs and hanging out with her family! She loves spending time outdoors hiking, skiing and snowboarding, camping, and gardening.
Kelsey Harvey
Kelsey is the patient care coordinator at our Fort Collins office. She grew up in the Chicagoland area before moving to Fort Collins in 2011. She loves spending time with her growing family of 10 siblings and 11 nieces and nephews. She loves working with people and has found a true passion in caring for people and animals alike. Kelsey enjoys volunteering and fostering for local dog shelters and spending time with her Great Dane and rottweiler, Roux and Hallie. Kelsey tries to be outdoors whenever possible to take advantage of Colorado's hiking, backpacking, camping and kayaking.
Tinnitus is a condition characterized by ringing or buzzing in the ears. It varies from person to person in severity, cause, and sound, but in all cases, the noise the individual "hears" is not created by an external source. Although tinnitus does not provoke hearing loss, it can negatively affect the life of the person suffering from it. For example, it can disrupt your career, your relationships, and your ability to relax and enjoy life. If you suffer from tinnitus, contact our specialists to receive a personalized recommendation for treatment.
ReSound LiNX Quattro with Made-for-iPhone Tinnitus Relief App
Oticon Tinnitus SoundSupport™
Tinnitus Retraining Therapy (TRT)
Widex Zen Tinnitus Treatment
If you live with an unbearable sensitivity to sound, you may be suffering from hyperacusis. The treatment for sensitivity to sound and tinnitus are very similar, and we are experts at both.
If you're concerned about your ability to hear properly, contact us to schedule a hearing test. First, we will ask about your medical and hearing history. Then, we will use an otoscope to examine your outer ear and ear canal, checking for abnormalities. After that, we will conduct a hearing test in a sound-proof booth. This will allow us to determine the specific frequencies (if any exist) that you struggle to hear.
Audiometric Testing
During the audiometric test, which helps us measure the range and sensitivity of your hearing, we will ask you a series of high-frequency and low-frequency words. We will also provide several words and ask you to repeat them. The results of this test can help us determine if you suffer from hearing loss, if you can understand speech properly, and if a hearing aid could improve your ability to hear.
Tympanometry
Using tympanometry, we will test the condition of your middle ear and the mobility of your eardrum (tympanic membrane) and conduction bones. To do this, we will change the air pressure in your ear canal. Tympanometry helps us to better understand the health of your ears and to diagnose any hearing issues you may be experiencing, such as hearing loss or tinnitus.
These days, you can find hearing aids online, at Costco, and at literally hundreds of other places in Colorado. Although you might be tempted to purchase a hearing aid from the comfort of your couch, we promise you won't regret visiting Sound Relief Hearing Center. Our specialists provide effective hearing tests, invaluable expertise, and top-notch service. Most importantly, we will provide knowledgeable recommendations for treatment and can personalize many of the devices we offer. By choosing Sound Relief Hearing Center, you can ensure that you receive an excellent return on your investment when it comes to your hearing health.
Wax Removal
Also known as cerumen, ear wax is a protective substance secreted in the passage of the outer ear. It both cleans and protects the skin of the ear canal. Although ear wax is natural and healthy, sometimes the ear produces too much wax, and the excess reduces the person's ability to hear or leads to tinnitus. If you're suffering from a buildup of ear wax, do not attempt to remove the excess yourself. Contact Sound Relief Hearing Center, so that our Audiologists can use the proper tools and techniques to safely and effectively remove the wax.
Patient Reviews
Write a review