Sound Relief Hearing Center
12001 Tejon St #124
Westminster, CO 80234
(720) 259-9750
Fax: (303) 379-5926
Our Westminster, Colorado tinnitus and hearing center is located one mile west of I-25 on the northwest corner of 120th and Tejon Street.
Hours of Operation:
Monday – Thursday: 8:30 am – 5:00 pm
Friday: 8:30 am – 1:00 pm
Our Hearing Health Professionals
Dr. Leah Mitchell, Au.D.
Leah Mitchell has been licensed and working in Colorado as an audiologist since 2004. She earned her bachelor's degree in communicative disorders from the University of Wisconsin – Oshkosh (2001), her master's degree in audiology from the University of Wisconsin – Stevens Point (2003), and her doctoral degree in audiology from the Pennsylvania College of Optometry's School of Audiology (2007). Prior to joining the Sound Relief team, she worked at an ear, nose, and throat (ENT) office, a private practice, and at the Department of Veterans Affairs. She enjoys seeing how her patients' relationships and quality of life can be improved through better hearing and the management of tinnitus.
Dr. Leah has lived in Thornton since 2004, after escaping the winters in her home state of Wisconsin. She enjoys spending as much time as possible in the Colorado outdoors with her husband, Tyler, and two energetic daughters, Evelyn and Etta.

Dr. Samantha Ewing, Au.D., CCC-A, FAAA
Samantha is originally from Minnesota, where she obtained her bachelor of science degree in Communication Sciences & Disorders and her bachelor of arts degree in Communication Studies.
After earning her bachelor's degrees, Samantha worked within the hearing aid industry. She received her doctorate in Audiology from the University of South Dakota. Samantha and her husband, Jerod, moved to Colorado to complete her audiology residency. She is a Fellow of the American Academy of Audiology and received her Certificate of Clinical Competence from the American Speech-Language-Hearing Association.
She has previous experience working with children and adults in private practice, educational, and hospital settings. Samantha is passionate about helping improve hearing, tinnitus, and overall communication in order to positively impact quality of life. Outside of work, she enjoys being with her family, spending time outdoors, watching and playing sports, and reading.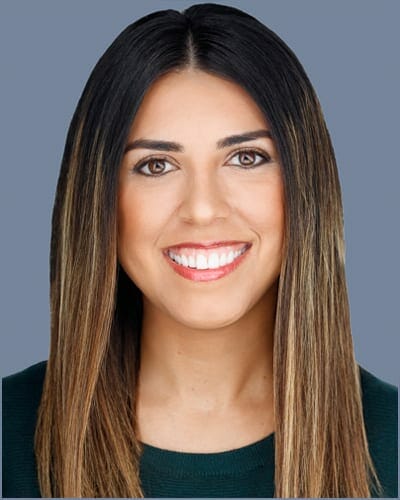 Justina Muniz – Patient Care Coordinator
Justina, a Colorado native, joined our team as the Patient Care Coordinator of our Westminster office in April 2019. Justina finds true joy in helping others and is passionate about caring for our patients. She has worked in medical care for over 6 years and continues to find enjoyment and growth in her job.
In her free time, Justina enjoys many things including hiking, traveling, being active and going to the gym, but mostly she enjoys spending time with her French Bulldog: Roskoe. She loves the outdoors and considers there is no lack of adventures for her and her pup in Colorado.

Do you live with ringing, rushing, or buzzing in your ears? If so, you have tinnitus, a condition characterized by the perception of sound without an external source being present. Although tinnitus will not cause you to lose your ability to hear, its presence can negatively impact your day-to-day life. Depending on the severity of your tinnitus, you might even struggle to work, socialize, or relax. If you suffer from tinnitus, contact Sound Relief Hearing Center today. Our specialists can recommend a personalized tinnitus solution to treat your unique problem.
Widex Zen Tinnitus Treatment
ReSound LiNX Quattro with Made-for-iPhone Tinnitus Relief App
Oticon Tinnitus SoundSupport™
Tinnitus Retraining Therapy (TRT)
Hearing Evaluations
When you arrive at our hearing center in Westminster, you will be asked questions about your medical history, focusing on your hearing history. During the consultation, feel free to ask questions or express any concerns you have regarding your hearing health. Next, the audiologist will use a lighted otoscope to inspect your outer ear and ear canal for abnormalities that could affect your hearing test results. Sometimes the results of this examination will require you to visit an ENT (Ear, Nose, and Throat) doctor. In addition, the audiologist will conduct a hearing test in a sound-proof booth to determine the specific frequencies that you find difficult to hear.
Audiometric testing will help us determine your ability to understand speech within a short distance. To accomplish this, we will ask you a series of high-frequency and low-frequency words, and we will also request that you repeat several words. The results of this examination will help us determine if you suffer from hearing loss, how well you can understand speech, and whether or not a hearing aid could improve your hearing ability.
Tympanometry
Tympanometry tests the health of the middle ear and the mobility of both the eardrum (the tympanic membrane) and the conduction bones. It accomplishes this by variating the air pressure in the ear canal with specialized equipment. This objective test can also help your audiologist determine whether your hearing loss is sensorineural or conductive.
With hearing aids available in hundreds of different places in Colorado as well as online, why should you purchase hearing aids at Sound Relief Hearing Center? Our specialists provide thorough hearing testing and personalized devices to ensure that your hearing aid meets your unique requirements. We only offer the most technologically advanced hearing aids, but we also promise to provide a variety of options designed to meet any budget. Not only do we offer top-notch services and a memorable experience, but we can help you obtain the greatest return on your investment in your hearing health.
Hyperacusis
If you are living with hyperacusis, a condition characterized by heightened sensitivity to normal environmental sounds, we can help.
Wax Removal
Cerumen, more commonly known as ear wax, is a waxy substance secreted in the ear canal. It plays an important role in the health of the human ear by protecting and cleaning the skin of the ear canal. However, sometimes the ear produces too much wax, and the wax becomes impacted and presses against the eardrum. The impacted wax can impair your ability to hear, cause pain, create a feeling of fullness, or even induce tinnitus. If you suffer from impacted ear wax, contact Sound Relief Hearing Center for help. We will use specific tools and professional techniques to safely remove the ear wax.
Patient Reviews
Write a review